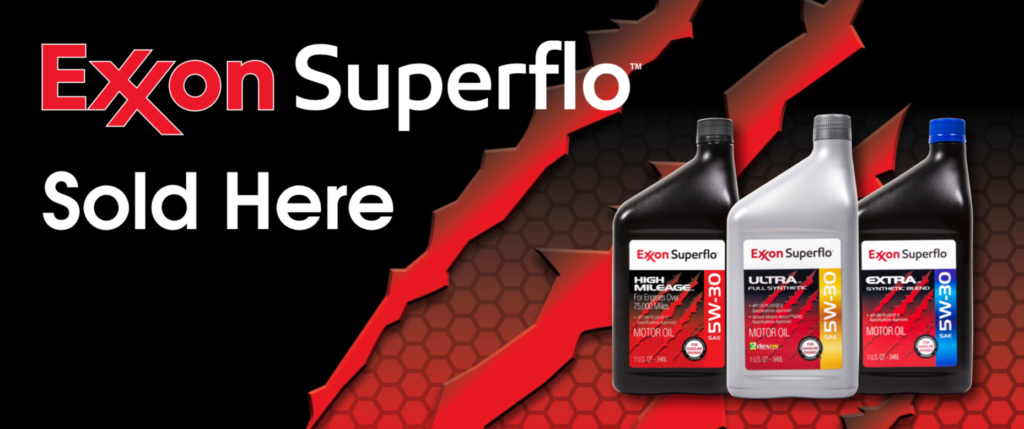 A Premium Quality Lubricant with a Trusted Name
Exxon Superflo Motor Oil, a trusted brand of ExxonMobil™, is under license by Brenntag Lubricants Northeast. Brenntag Lubricants Northeast has an exclusive branding agreement within the Northeast to market and sell Exxon Superflo Motor Oil and Automotive Lubricants.
The Exxon Superflo program is tailored for the professional automotive installer looking for a premium quality lubricant combined with a trusted name and value driven marketing.
Included in the Exxon Superflo program is a well-balanced portfolio of OEM approved premium performing motor oils and lubricants in a variety of package sizes:
• Exxon Superflo Elite Synthetic Blend API SN+/GF-5
• Exxon Superflo Ultra Synthetic API SN+/GF-5 GM Dexos-1 Next Generation
• Exxon Superflo High Mileage
• Exxon Superflo Ultra European
• Exxon Superflo ATF DM-III
• Exxon Superflo Ultra Synthetic ATF
The Exxon Superflo Marketing Program Includes:
• Consumer Oil Change Mail In Rebate
• Frequent Customer Punch Card
• Installer Initial Product Allowance
• Installer Automatic Bulk Fill Allowance
• Installer Ancillary Products Quarterly Allowance
• Best in Class Filter Pricing
• Quarterly Motor Oil and Lubricant Purchase Rebate

The Exxon Superflo offering drives improved profitability for the automotive installer while providing the very best value in performance for the motoring public.